AgoraPlus wordt nu gebruikt door meer dan 7.000 bedrijven over de hele wereld. Om aan de behoeften van onze gebruikers te voldoen en hun gebruik te stabiliseren, hebben we besloten om een ​​bètaprogramma te lanceren dat elke zes weken en ongeveer drie weken voorafgaand aan een productierelease wordt geleverd.
Volgende week komt de eerste bètaversie van AgoraPlus uit met nieuwe features en fixes.
Klanten die toegang willen hebben tot deze bèta, kunnen deze downloaden vanaf het tabblad Downloads.
Aanmaken van het interventiedossier door een technicus
Toevoeging van de technicus die verantwoordelijk is voor het dossier in de AgoraPlus-interventiedossiers. Ter herinnering: u kunt al profielen en accounts aanmaken, afhankelijk van uw hoofd-AgoraPlus-account. Deze functie vereenvoudigt uw beheer van interventiedossiers.

Opties van de tabelkolommen
U kunt nu selecteren welke kolommen u in tabellen wilt weergeven. De betrokken tabellen zijn de schermen voor het zoeken van ruil of vergoeding verzoeken, werk orders, interventies en garantierapporten.
Het is mogelijk om kolommen aan de tabel toe te voegen, enkele te verwijderen of de weergavevolgorde te wijzigen.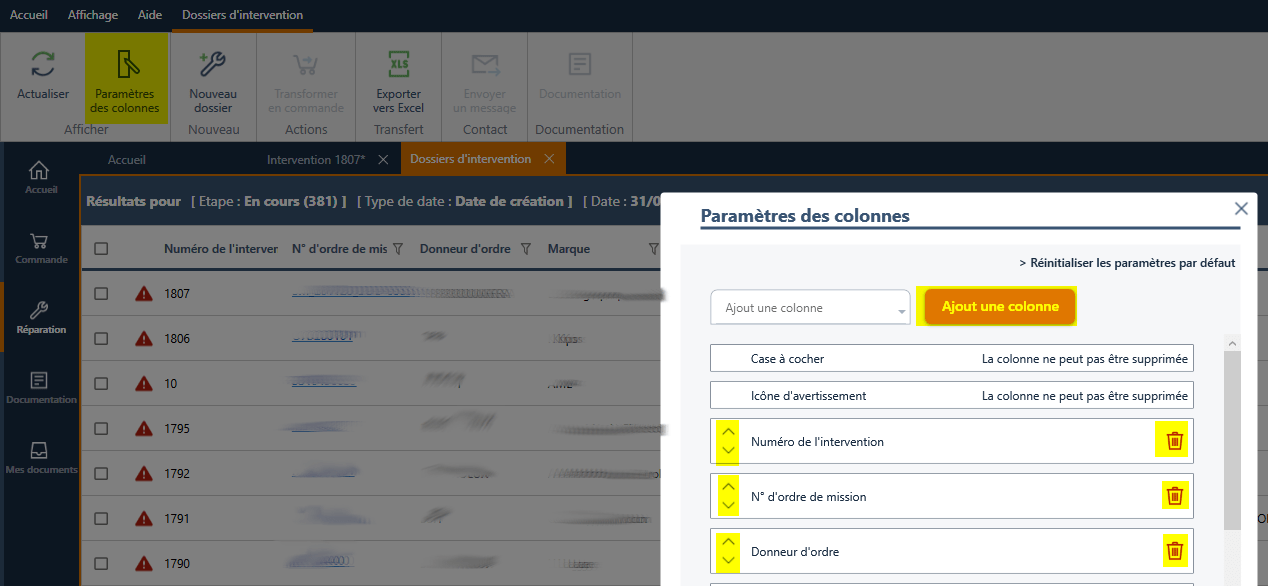 Globale zoekopdracht
Met deze functie kunt u een globale zoekopdracht uitvoeren in de hoofdmodules van de applicatie.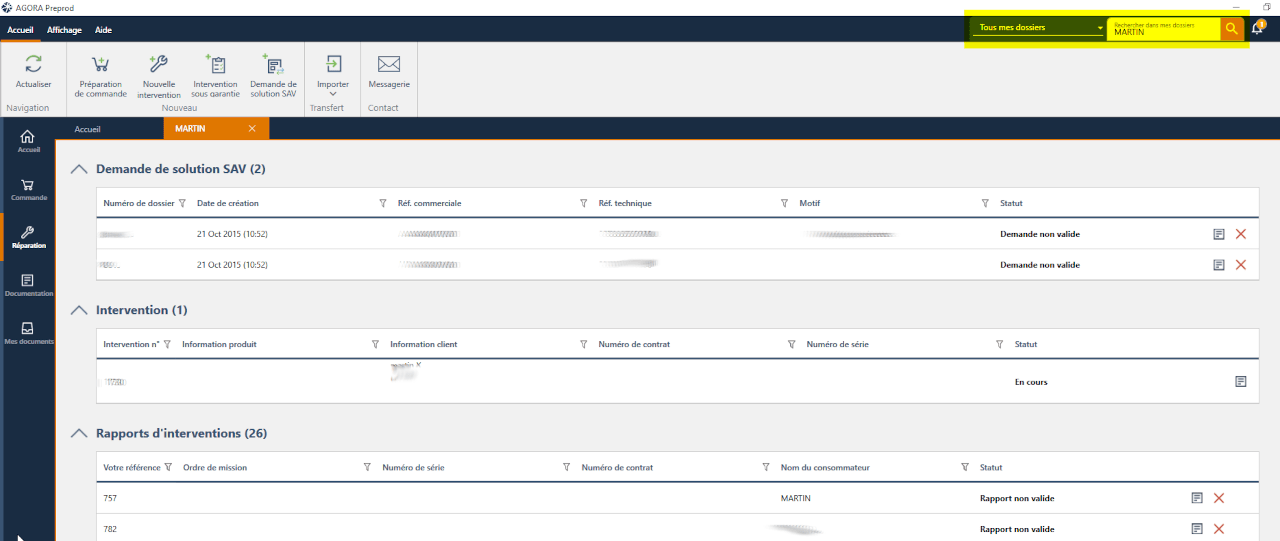 Massa-transformatie
We hebben de transformatie naar massa-orders van onderdelen uit de interventiedossiers geoptimaliseerd. Onze nieuwe module voor het uploaden van bestanden kan nu zonder problemen duizenden regels aan.
Toegang tot trainingsmodules
Toegang tot "Contacten"
Toevoeging in de menubalk van directe toegang tot trainingsfuncties (alleen voor de betrokken landen), evenals contactgegevens voor fabrikanten 'Help / Contact' (Frankrijk)
Toetsenbord sneltoetsen
Sneltoetsen geven toegang tot de belangrijkste AgoraPlus-functionaliteiten, zoals Nieuw interventierapport ', Nieuwe ruil of vergoeding verzoek', evenals andere navigatiesnelkoppelingen.
Details zijn beschikbaar in de gebruikershandleiding. Deze functie zal worden aangevuld met nieuwe snelkoppelingen wanneer nieuwe versies verschijnen.
CORRECTIES
De enige opmerkelijke correctie betreft de mogelijkheid tot verwijdering van de Verzoeken om ruil of vergoeding.