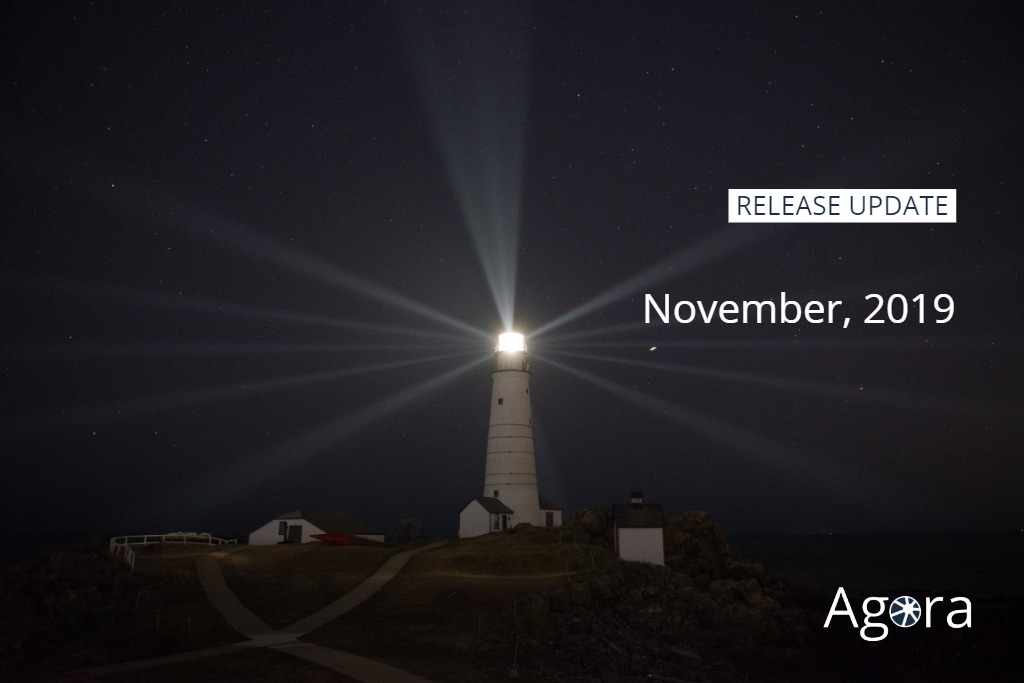 Volgende week wordt een nieuwe versie van Agora Plus V3 geïmplementeerd. U zult nieuwe functies ontdekken, zoals de Meldingenbeheerder en Gebruikersaccountbeheer. Deze nieuwe versie bevat ook correcties. Klanten die Agora Plus V3 al gebruiken, worden automatisch bijgewerkt.
Nieuws / Verbeteringen
Houd er rekening mee dat sommige schermen kunnen verschillen, afhankelijk van uw land en de fabrikant waarmee u werkt.
Meldingen
Deze functie is alleen beschikbaar voor klanten die momenteel werkorders gebruiken.
Om u een beter beeld te geven van de belangrijke informatie die u dagelijks moet beheren, hebben we een functie geïmplementeerd waarmee je in één oogopslag kunt zien of er nieuwe werkorders zijn aangemaakt.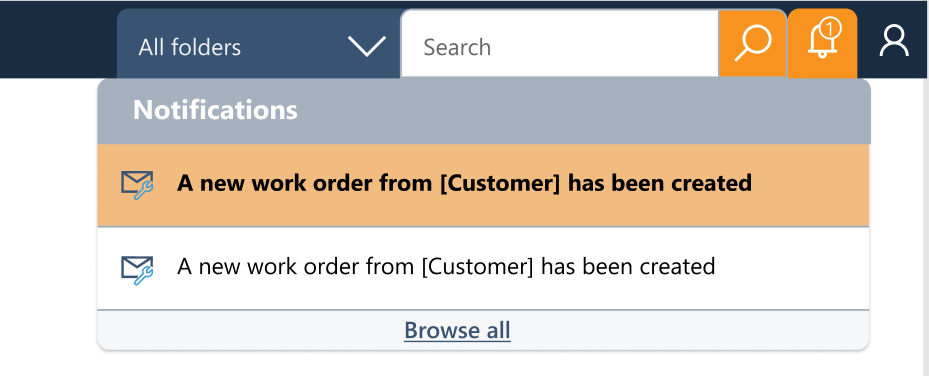 Deze functionaliteit zal vervolgens worden uitgebreid naar andere soorten evenementen, zoals bestellingen of garantie-interventies.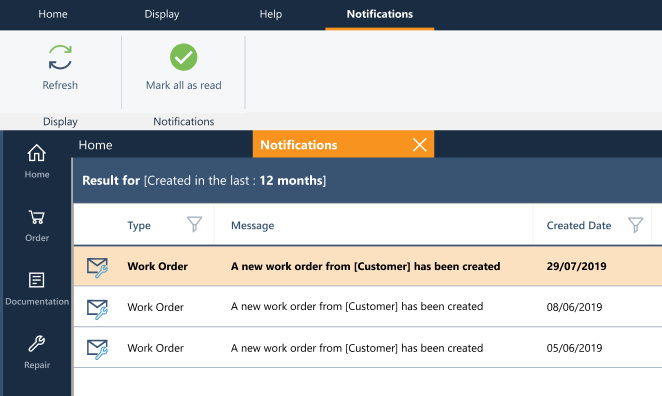 Een tweede scherm maakt het mogelijk om alle meldingen te raadplegen en gemakkelijk de meldingen te bekijken die nog niet zijn geraadpleegd.
Beheer gebruikersaccounts
Om u te helpen uw gebruikers beter te beheren, hebben we een functie geïmplementeerd waarmee u gebruikersaccounts kunt maken waaraan u verschillende rechten kunt toewijzen.
Dit menu is toegankelijk via het tabblad 'Admin' waartoe u toegang hebt als u uw hoofdaccount gebruikt.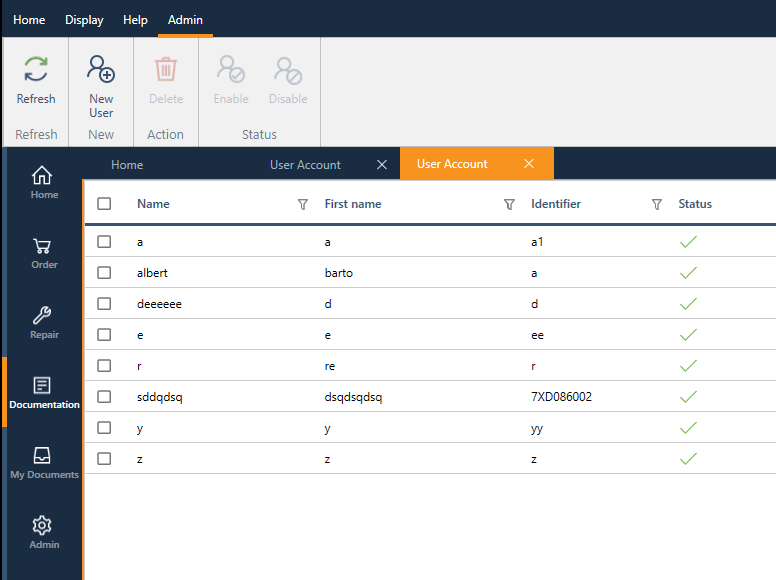 In dit scherm kunt u alle gemaakte accounts bekijken en de status van het account controleren. Met de acties in de werkbalk kunt u een of meer accounts in- of uitschakelen.
U kunt een gebruiker aanmaken met de knop: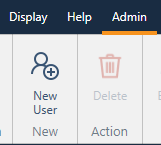 Om een account te bewerken klikt u op de regel: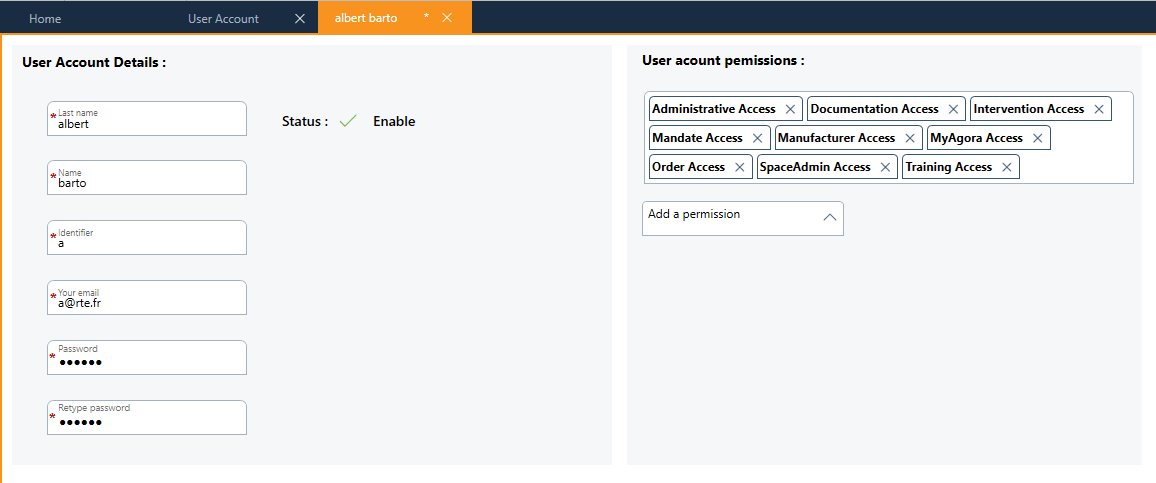 U kunt de informatie van de gebruiker wijzigen, behalve zijn gebruikersnaam.
Bevoegdheden
Dit scherm kan variëren, afhankelijk van de beschikbare functies voor uw land
U kunt verschillende bevoegdheden geven aan gemaakte accounts: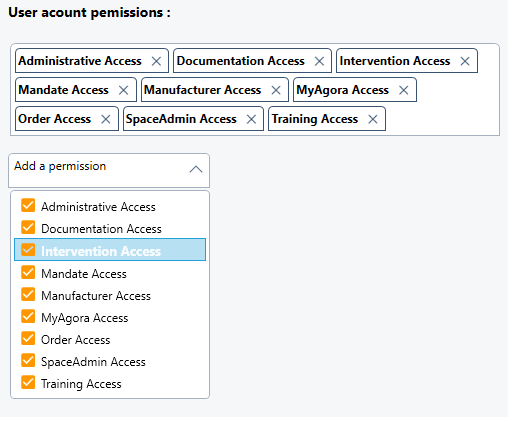 Zoek een interventiedossier of een werkorder op telefoonnummer
We luisteren voortdurend naar u om bestaande functionaliteiten te verbeteren. De zoekopdracht stond niet toe om op een efficiënte manier per telefoonnummer te zoeken op een werkorder of een interventiedossier. Dus hebben we dit zoekfilter gewijzigd om spaties te negeren bijvoorbeeld: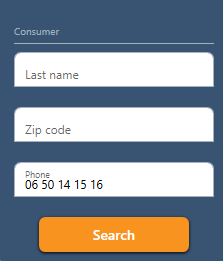 Het resultaat is:

Een order regel dupliceren
Op dezelfde manier hebben we het verzoek ontvangen om de mogelijkheid toe te voegen om een of meer orderregels uit de winkelwagen te dupliceren. Er is nu een nieuwe actie beschikbaar vanaf de werkbalk wanneer u zich in de winkelwagen bevindt:
Correcties
Deze nieuwe versie van Agora is een stabilisatieversie waarin we eenvoudige verbeteringen hebben opgenomen, maar waarmee u de productiviteit kunt verhogen. Veel correcties zijn ook toegepast om de kwaliteit van het programma te verbeteren.
Wat er gaat komen
In januari komt een nieuwe versie van Agora Plus met nieuwe functies, waarbij het idee blijft bestaan om de bestaande functies te verbeteren dankzij uw feedback.