A new version of AGORA V3 will be released on Monday 05 July 2021.
You will discover improvements and a new homepage customisation feature.
The update of Agoraplus V3 will be done automatically when you open the application.
New features / Improvements
The homepage has been redesigned and is now fully customisable.
1st connection since the release of this feature?
When you log in for the first time, the default widgets proposed by AGORA will be displayed on the home page.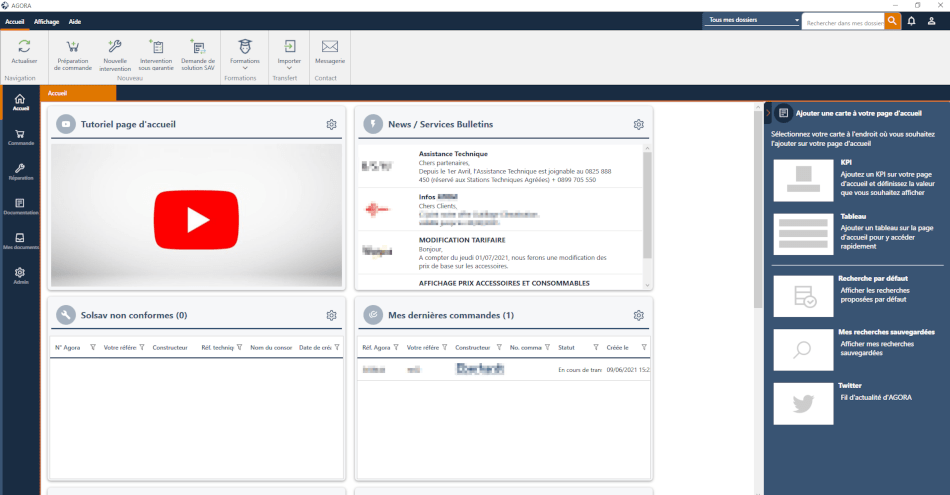 It is possible to remove these widgets and replace them with your own.
The widgets offered by default will be available even after deletion by clicking on 'Default search' (see point 3 on the image below).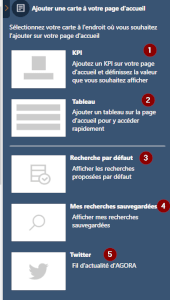 Customisation of the homepage.
The customisation of the homepage with your own widgets is based on the saved searches set up within the account.
Reminder: What is a saved search?
Each module of the AGORA application allows to save several saved searches (specific search criteria) in order to be able to rerun this search more quickly.
These saved searches will serve as the basis for creating custom widgets for your homepage.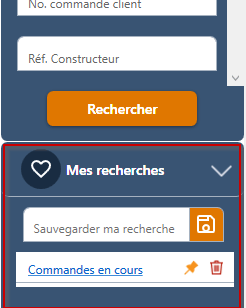 To create a custom widget, click on the desired widget type (KPI, board).
Complete the pop up that appears.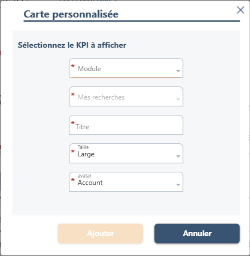 Click on 'Add' and the widget will appear on the homepage.
KPI widget
Board widget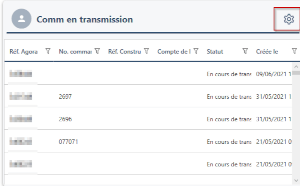 The settings option for each widget allows the widget to be modified, deleted or updated.
The order of the widgets is also configurable, simply drag the widget to the desired location.
For more information on how the homepage works, we advise you to watch the video tutorial available in the application (Search by default).
What's coming in the next release
Improved management of the follow-up of repair files.