New + Improved
We have added the print feature of an order as you can see :

Good things come in pairs, you can now filter the parts in the parts list of a product :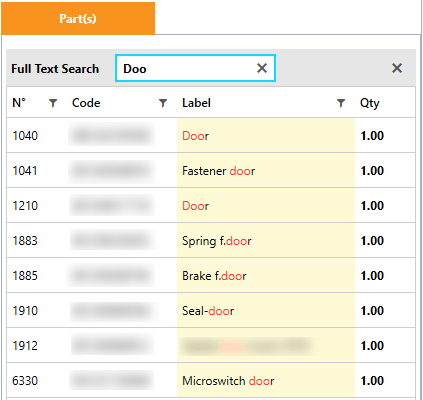 And also enter filter criteria on each column :
Fixes
The accessory tab has been removed if there is no accessory to display
We have hidden some wrong data for specific countries
The requested date of an order is now set by default to "Today"
Resizing of the price pop-up
In the basket, the scroll bar was not working properly
The "Order tracking" card displays now the last 10 days orders
The "Orders by manufacturers" pipe chart has been fixed on the Home Page
Coming Next
We will deploy a new feature to display the promotions of a manufacturer
The documentation feature will be improved
Some KPIs
Close to 2800 companies, using Tradeplace have logged on AGORA PLUS over the last weeks.
More than 1000 orders were passed
We continue to improve Agora
Agora's Info
As of today's more than 70% of the Tradeplace users are using AGORA PLUS as their new platform.
With this release, we continue to improve the interface based on your feedbacks, like the search functions directly in the BOM section. Please if you want to see feature, you can ask us question or bring ideas in our forums. In parallel, we are in the final days of testing the smartphone apps on IOS and Android. These apps will enable you to look for a product, check the documentation and the parts and even download all of the documentation to be able to access offline.
Unlike Tradeplace, you can install the app on as many devices as you want free of charge. Just like the desktop application, we only verify that the number of users logged in the system is covered by the number of licenses you bought.
Finally, we are actively bringing version 3.1 that will include the ability to add new brands to your subscription and include warranty reports. It should be ready in May.